The Alaska Safety Advisory Council's Mission:
"The Alaska Safety Advisory Council, in order to increase safety and health in the State of Alaska, will promote, advise, consult, encourage, coordinate and sponsor policies, activities and actions that are designed to reduce the loss of human and material resources in the State of Alaska."
History
The complete history from House Journal Supplement, April 2, dating from 1982 can be found here in the legislative archive.
In 1977 Commissioner Edmund Orbeck asked a group of industry leaders to organize a Governor's Safety Conference. Mr. Vern Smith of 3M Company and Mr. Richard Pittenger of the Alaska Associated General Contractors were instrumental in organizing a committee of industry and labor leaders to work with the departments of Labor and Transportation and Public Facilities to hold the first conference in 1977. Conferences were also held in 1978 and 1979. Legislation to form an Alaska Safety Advisory Council was first introduced in 1972.
About the Council
Description: The council consists of 14 members – 13 appointed by Governor to two year terms: 5 representing industry and 4 representing labor with consideration of geographic representation and population distribution, 1 federal, 1 state, and 1 local government representative, and 1 public member; all of whom may be reappointed. Members serve at the pleasure of Governor. The Commissioner of the Department of Labor or their designee serves as Executive Secretary. The council elects chair.
Function: The council works with organizations to promote safety so that resources can be marshaled and used to reduce menace of accidental death and injury.
Special facts: Members serve at the pleasure of the Governor. The council makes recommendations to the Governor and Legislature on state policy and program for safety and health of Alaskans.
Meetings: The Council meets at least three times a year, once being at the Annual Governor's Safety and Health Conference, which the Council plans.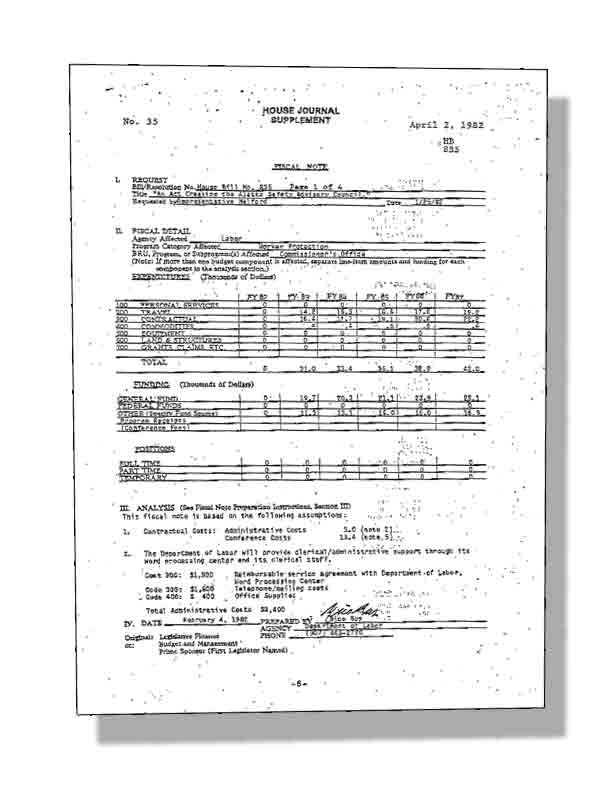 .